home | electronics | toolbox | science club | tuxtalk | photos | e-cards | online-shop



Sewing: an interesting stitch pattern
When I sewing something by hand I used to use a simple stitch pattern that my mom taught me decades ago. To sew together two layers of fabric you simply go up and down. The problem with that stitch pattern is that it does not make a continuous line when you look from the top. It results in a dashed line pattern with equal sized spaces and dashes. To complete the work you have to turn around at the and and go back. Only then you get a continuous line.



This works well but sometimes it is not optimal that one has to turn around at the end and go all the way back again. Recently I found that I had a pair of shoes where one could replace the soles after they are worn out. It's a rare kind of shoe made the old fashion way without glue. The soles are sewed to the upper leather part and that company even sells replacement soles. Before taking it apart I checked carefully how the soles where stitched to the leather. I discovered an interesting stitch pattern that makes a nice line without the need to go back at the end. Here is how this works: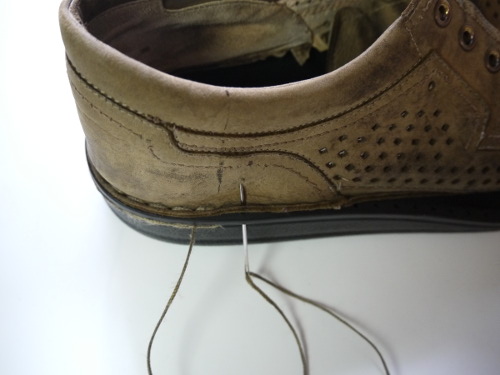 sewing new soles onto old leather shoes with a very interesting stitch pattern that makes a complete line in one go.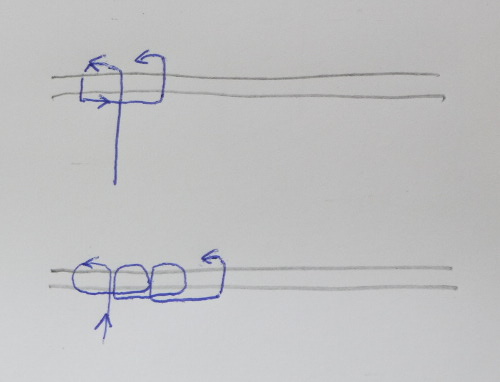 How this interesting stitch pattern works



This "new and interesting" stitch pattern works such that you go at the start one stitch in the opposite direction (backwards) and then you move always two "holes" forward and you do backward loops. It makes a complete line in one go and it is very strong.

This is useful not only for shoe repair. It's now my favorite hand stitch pattern for any kind of repair that needs to be done by hand and I wanted to share this discovery with you. Sewing by hand is almost a lost art but sometimes it is needed because sewing machines don't work around difficult corners or in narrow spaces.




---

© 2004-2023 Guido Socher