home | electronics | toolbox | science club | tuxtalk | photos | e-cards | online-shop



Ruizu x02 mp3 player, change language from Chinese to English
I bought recently a small Ruizu x02 mp3 player on ebay and it came with the language set to Chinese. Funny symbols everywhere. I did not know what to do with it and the seller had not provided any instructions on how to change it to English.

Fortunately I found a friend who could help and change the language settings to English.

I am posting this here for those who end up in a similar situation. The photos below are in English to make it easier to understand the flow but even if the player is set to Chinese it is still the same path that you have to take through the menus to change the language. The actual language selection menu is fortunately not translated to Chinese and you can find a line that says "English".

Here is what to do: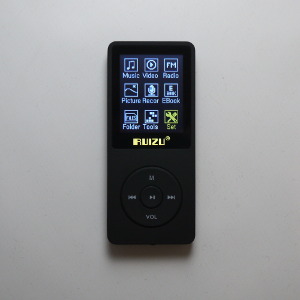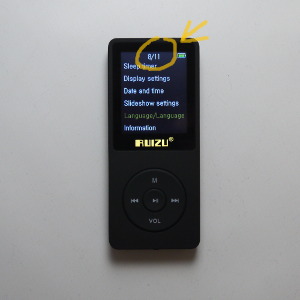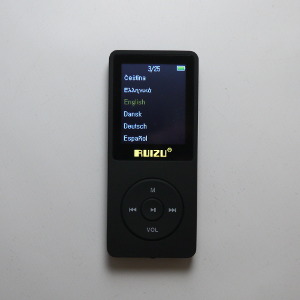 Select the bottom right settings item on the main screen. Select menu item number 8 to change the language. Select "English"
Ruizu x02 review
Overall I am quite happy with this little mp3 player. The mp3 player reviewed here is a RUIZU X02 purchased in 2018. The only model identifiers are on the back of this device: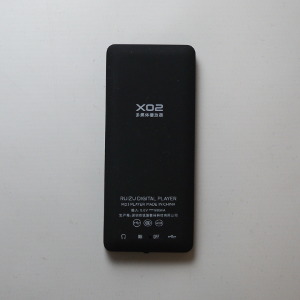 hardware: light but solid, it is a plastic case with a rubber like coating similar to the classic ibm thinkpads. If you like thinkpads then you will like the casing of this mp3 player.
functionality: this is mainly a mp3 player even though it has some other features too. It can supposedly play the music formats MP3/WAV/APE/WMA/FLAC but I tested only mp3. It can as well display AMV videos and text files but the display is too small for that and it would have been better if they had removed those features and focused on music only. It has as well an FM radio receiver and there might even be other functionality in this little device that I have not discovered yet.

The mp3 player music sorting is file based. That is: you can navigate through files and directories and play/select music based on files and you can see the file names. I organize music on my PC in files and directories and this way of working translates perfectly to this player. I had in the past "smart" mp3 players that would use only the meta data in the mp3 files to sort and organize music and that does not work at all for me. I am happy with this player since it fits my way of organizing things.
sound quality: I could not hear any noise and the mp3 sound quality is crystal clear.
battery: Built-in rechargeable lithium battery.
connectivity: micro USB cable and 3.5mm stereo jack. You can have the player on/off switch in off position and still play music while charging. This is perfect if you use it in the car and power it via a 5v usb charger. As the player stops then as soon as you turn the ignition off and you can play again the next time you start the car. The player seems to have some support to resume automatically where you left of last time but it does not always work. I have not figured out what the logic it but there is probably a software fault in this area.
---

© 2004-2023 Guido Socher